A few days ago, Hisense Mobile continued to offer special discounts for eye-reading mobile phones in its own flagship store in JD.com. Now, with the ongoing activities and the enthusiasm of fan participation, Hisense mobile phones continue to add weight to the original offer, launching # 海信 享 机 惠 # reading mobile phone up to 24 issues of white bar interest-free activities.
Event address: https://pro.jd.com/mall/active/QwHUYhHy7Pij8yRDDgcptSGk3HW/index.html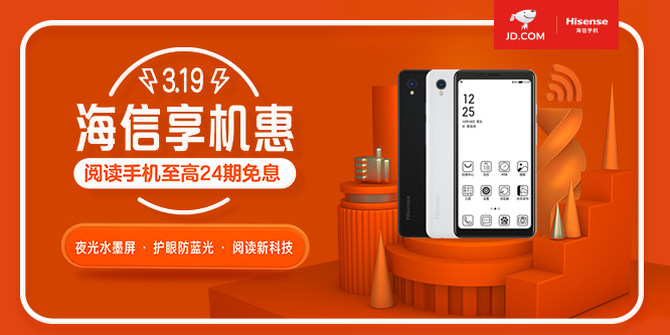 It is understood that after the event is fully upgraded, in addition to "reading the mobile phone up to 24 issues of white bars interest-free" and other benefits, there are "dual-screen flagship mobile phone A6 straight down up to 600 yuan (USD $86) ", "additional purchase of goods can receive Jingdou" Waiting for the new gameplay, it can be said that it really benefits consumers.
It is worth noting that this event is valid from March 16th to March 19th. During this period, purchase the Hisense single-screen reading mobile phone A5 premium version, you can enjoy 24 white bars interest-free, in addition to JBL headphones, Jingdong reading VIP semi-annual card free of charge; purchase Hisense single-screen reading mobile phone A5 HiFi version, enjoy 3 Interest-free period, and Jingdong reading VIP monthly card is free.
Among them, users who bought the dual-screen mobile phone A6L from March 18th to 19th can enjoy 24 periods of white bar interest-free, and users who purchase the premium version also have the opportunity to get a limited number of customized leather cases for free.
If the user buys the dual-screen flagship reading phone A6, in addition to the 12-phase white bar interest-free, you can also enjoy a straight-down discount of up to 600 yuan (USD $86) : the original price of 2499 yuan (USD $357) Hisense dual-screen reading phone A6 high version, now only 1999 Yuan can start, and Hisense reading mobile phone A6 standard version of the original price of 2399 yuan (USD $343) , now only 1899 yuan (USD $271) .
Hisense reading mobile phone belongs to Hisense A series. Its biggest selling point is eye protection. The screen innovatively introduces the ink screen on the e-book reader to the smart phone. The ink screen mainly relies on the movement of the internal particles to complete the imaging. The advantages of electricity, eye protection, and readability under sunlight, coupled with the screen's non-luminous characteristics, make the reading experience closer to traditional paper books. At the same time built-in 2048 level AI intelligent dimming soft light. Use no direct light or glare at night, intelligently adjust the brightness to obtain a soft night reading mode; hardware-level eye protection, reduce night reading blue light damage by 90%, and protect users' eyesight to the greatest extent.
In terms of content, Hisense reading mobile phones A5 / A6L / A6 integrated head content platforms such as JD reading, palm reading, Migu reading, reading, and QQ reading, and created an exclusive aggregate bookshelf for users by unlocking multi-level and multi-dimensional reading scenarios. , Solved the drawbacks of the traditional e-book equipment system closure, and built a mobile reading handheld library.